This Week's Shows
4:30 PM PST - M, W, F, Sat
3:00 PM PST - T, Th, Sun Broadcast

LISTEN LIVE - San Francisco LIVE Stream CLICK HERE TO LISTEN Archives 24/7
Tune in @ 4:30pm on KDIA AM1640 & online @ http://www.kdia.com/ & more


Monday - The Two-Front War on America
Another school shooting on the anniversary of the Sandy hook School shooting - what is the reason for this evil in our schools? Plus, part 1 of the force that is transforming America and increasing the loss of religious liberties in our nation. Multifaceted in strategy, the plan is taking hold. Who, why and how?

Tuesday - Cultural Warriors: Naughty & Nice List + What's Next?
Live Stream Show @ 3pm PST on BlogTalk Radio - LISTEN ONLINE or Call: 424-222-5360
Debra Rae and Audrey Russo join Sharon for this year's Naughty & Nice List of retailers. Plus, what's next for American Christianity, given the current stripping away of religious freedoms, the growth of an anti-Christian mentality, and the 'political' divisions in the church?

Wednesday - Stealing the Culture?
Though many deny it, cultural Marxists have been engaged in transforming America for decades, creating a tipping point that is responsible for the results of the elections of 2008 & 2012, and the 'political' divisions in the church. Part 2 on the multifaceted strategy that has brought significant change in American culture

Thursday - REELTalk: Facts About Nelson Mandela & more
Live Stream Show @ 3pm PST on BlogTalk Radio - LISTEN ONLINE or Call: 424-222-5360
Joining Audrey Russo for this week's REELTalk edition of Changing Worldviews Scott Wood will be dishing out this week's comedy relief and he's bringing a bunch of celebs with him! Plus, Peter Hammond direct from South Africa to clear the confusion on the facts about Nelson Mandela.

Friday - When the Church Leaves the Culture
There was a time when Hollywood and the Church worked together...but the church left. What has been the result in this and other cultural arenas since the Church dis-engaged from, or was kicked out of, involvement? Plus, most think the modern 'religious right' is a fairly new phenomena, not.

Saturday - Who is Winning the Christmas War?
Our weekend WOMANTalk edition of the show will look closer at the War on Christmas and who is winning and what this means moving forward in the culture wars of the 21st century. You may be surprised by the facts. Audrey Russo and Debra Rae join Sharon for another lively discussion.

Sunday - GODTalk: Christmas Special
Live Stream Show @ 3pm PST on BlogTalk Radio - LISTEN ONLINE or Call: 424-222-5360



Changing Worldviews.Commentary
Take Action Items
Join The Fight Against Common Core


Two competing forces are pushing on America's K–12 education system today. One is an effort to infuse education choice into a long-stagnant system, empowering parents with the ability to send their child to a school that meets her unique learning needs. The other is an effort to further centralize education through Common Core national standards and tests. Common Core takes the path toward centralization, and state leaders should seize the moment to resist this latest federal overreach. National standards and tests are a challenge to educational freedom in America, and state and local leaders who believe in limited government should resist them.
See All Take Action Items
This Week's Top News Stories

HEADLINE STORY
Sudden Threat Endangers Hillary's 2016 Run
WORLDNETDAILY – A threat to Hillary Clinton's much anticipated 2016 presidential campaign appears to be developing in Egypt where that nation's government is taking steps to criminalize the Muslim Brotherhood. Specifically, a new criminal complaint has been filed with Egypt's attorney general, Hisham Barakat, alleging then-U.S. Secretary of State Hillary Clinton collaborated with Naglaa Mahmoud, the wife of ousted Egyptian President Mohamed Morsi, in seeking to incite domestic insurrections to topple Abdel Fattah el-Sisi, the Egyptian general who has been commander in chief of the Egyptian armed forces, as well as minister of defense, since Aug. 12, 2012. Researcher Walid Shoebat, a native Arabic-speaker and a former Palestinian Liberation Organization operative, has reported on his blog that credible news sources in Egypt have reported in Arabic that criminal charges have been brought against Hillary Clinton and Morsi's wife. Shoebat translated the following from an Egyptian Mehwar TV channel news video in which television reporter Nasr Qaffas explains on camera details of an interview Turkey's Anatolia news agency conducted with Naglaa Mahmoud.
Read More

MORE TOP NEWS
ESPN Rejects, then OKs Christmas Charity AD
Obama Plans to give Jerusalem Holy Sites to Vatican
'Global Warming' Iced by coldest Day Ever
CNN Blames Christians for ObamaCare Problems
Colorado College Lists Five Genders on Applications


GOOD NEWS
IRS Retreats from Attack on Veterans

WEBSITE OF THE WEEK
Barna Group Trends

VIDEO OF THE WEEK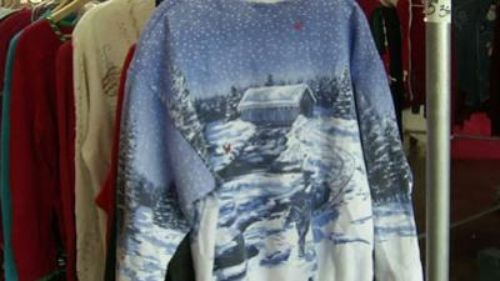 Ugly Sweater Store Banking on Trend

MORE AT CHANGING WORLD NEWS

THE BLOG
ELECTION CENTER
Contact the White House Contact US Senators Contact US Representatives
202-456-1111 202-224-3121

Party Platforms

Track Your Senators' and Representative's Votes
PICTURE WORTH A THOUSAND WORDS
Townhall Cartoons
Opeation Heartlift & Operation ARC

Thank you to everyone who supported our Support our Troops event and helped us send Survival Bracelets, homemade cookies, cards and other goodies to a whole Battalion of Special Forces Troops in Afghanistan. Here's just one of the 'thank yous' we've received from them...

Thank You From our Troops...
"I just wanted to send you an email and thank you for the packages you guys sent to us. It really means alot to know that someone besides our immediate families are still thinking about what we are doing over here. The bracelets were awesome. A few of the guys got reading assignments on the Constitution as well. I can't say thank you enough." -Justin Kobler

See article in Petaluma Patch on this effort.



Thank You! for Liberty Love Donations
Your donations of $10.00 sent Neck Coolers, homemade cookies and lemonade pkts to Troops in Afghanistan during the hot summer, for our Liberty Love campaign.


Next Mission: Stay Tuned!

See pictures and more - visit OHL's website







Help Us Rescue At-Risk-Children





Helping to rescue children of prostitutes and young girls out of the sex-trafficking industry, and other at-risk-children overseas and here at home.

See more information - click here.

Please Support our Troops & help us rescue at-risk-children
Send Your Donations to:
Changing Worldviews/Operation Heartlift or Operation ARC
PO Box 750-624
Petaluma, CA 94975-0624
Thank You! All donations for OHL & OARC go directly to these projects.

Places to Listen
More Ways To Connect
This Week's Poll
Is There A Real War On Christmas?
ON THE AIR

The Sharon Hughes Show
4:30 PM PST - M, W, F, SA

KDIA AM1640
San Francisco Bay Area
(Also Streamed Online Live Here)

Our BlogTalk Radio Team
3:00 PM PST - T, Th, Sun
LIVE! CLICK HERE for BlogTalk Radio
Call-In Number: (424) 222-5360
Join us in the Chat Room

STUDY GROUPS
December 2013




Here's what we're reading this Christmas: Read along with us on your own. Study groups will start up again in January.

Click here for information on book

Find out how to join or start a study group...

Contact: TALK@changingworldviews.com

UPCOMING EVENTS
SPEAKING

Sharon
Standing Strong! Study
WIC Luncheons
October - December 2013
Rohnert Park, CA

Contact for more information
into@changingworldviews.com


Calendar page
QUOTES OF THE WEEK
History Quote...
"Christmas means so much because of one special child" and that many "of us believe in the divinity of the child born in Bethlehem, that he was and is the promised Prince of Peace." -Ronald Reagan


News in Quotes...
Look at the details, I say to those who are criticizing it. This is keeping our principle intact: no tax increases, net deficit reduction, permanent spending cuts in place of the across-the-board approach." -Paul Ryan



You Gotta Be Kidding! Quotes...
"I got the Christmas eve excitement brewing right here at Hardball because tomorrow night at precisely this time...the President of the United States is going to join us." -Chris Matthews, MSNBC Hardball
MONTHLY EMPHASIS


December is...
"Celebrate Good News"
Month

We don't have to hunt for bad news...it's all around us. But, so is good news. However, it is not reported the same as bad or troubling or crucial news is. So, this month as we report the good news along with news we need to be warned about, we encourage you to do the same...as we also celebrate "The Good News" of Christmas.
WHAT OTHERS ARE SAYING
"Never has there been more of a need to wake up America to what is happening politically. Thank you for all you do every day to make a difference. I applaud your eforts.
" -Bonnie
"I have perused your website and find all kinds of good information. I will continue to investigate the site and your contributors, sorta like a miner digging for truth. Seems to be a very rich vein here." -George
RATINGS



Gives Sharon 100% Credibility
Rank in Journalism
Read Sharon Also At:
FrontPageMagazine

The People's Cube

The Patriot Post

Family Security Matters

Canada Free Press
INDEX
MONTHLY VISITORS