This Week On The Show
LISTEN LIVE 3-5 PM PDT SUNDAYS on Flagship Station:
KMYC AM 1410 & Streamed Live @ www.kmycradio.com

On the Air: Sunday, April 5, 2015, 3-5:00 pm PDT
KMYC 1140 AM & Stream Live @ www.kmycradio.com
Hour 1 & 2: EASTER SPECIAL
Amazing accounts of people who claim to have died and gone to heaven, and returned to tell about it, such as the young boy written about in the book, "Heaven is Real," and atheist stung by a deadly jelly fish. Plus, hear also from a Jew who has accepted Jesus Christ as their Messiah, and then from two pastors to discuss Hollywood's take on Jesus as in the "Passion," and other films, such as "God is Not Dead," and Bill O'Reilly's "Killing Jesus," aired this week on National Geographic television.
Music Pick: "End of the Beginning" by David Phelps

On the Web: Friday, April 3, 2015, Noon-1:00pm PDT
BlogTalk Radio: GODTalk - FALLOUT: When A Church Takes a Stand
The State isn't the only thing churches have to battle for religious freedom today. Their own denominations may be the first institution they have to fight when going against the cultural grain, such as regarding family values. Pastor David Miller and his congregation faced extreme difficulty and loss when they chose to stand for the biblical definition of marriage. Powerful.

Other Stations, Times, Venues
Changing Worldviews.Commentary
Take Action Items
Stop Common Core In Your School

Truth in American Education offers a helpful ToolKit as a valuable resource that will help you gather information, educate yourself and others and take action in addressing the issues concerning Common Core.

The Parent and Community Action Plan provides action points to address your areas of concern:
-Become knowledgeable and pass information to others.
-Read and distribute documents and use information as talking points.
-Download evidence, print copies and send the download link out to others, as well as counter misleading information that promotes CCSS and related issues.
-Call, write and meet with elected local, state, and national representatives.
-Contact Congress through the Capitol switchboard at 202-224-3121.
-And more...GO HERE
You will also Click here to download the CCSS Opt-Out Form
See All Take Action Items
This Week's Top News Stories
HEADLINE STORY
World Leaders to Meet with Iran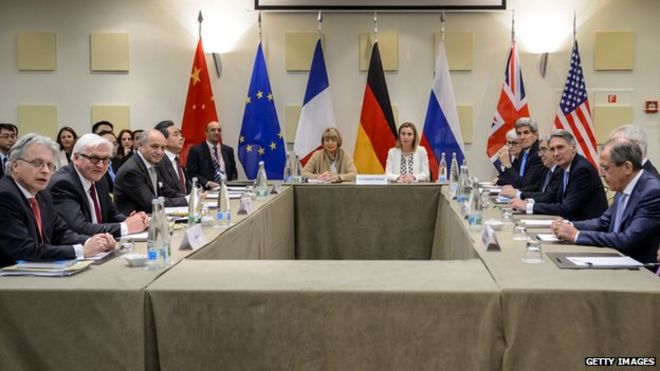 BBC - Ministers from six world powers are expected to hold their first full session on Monday with Iran's foreign minister over its nuclear programme. The deadline for reaching an agreement is Tuesday. The essence of an emerging deal is to keep Iran at least one year away from being able to produce enough nuclear fuel for a single weapon. Representatives from the US, Germany, France, the UK, China and Russia are at the talks in Lausanne, Switzerland. The two sides have explored compromises in areas including the number of centrifuges used to enrich uranium that Iran could operate, and its nuclear enrichment work for medical research. Restrictions on Iran's nuclear work would last at least a decade, and include rigorous inspections, in exchange for an end to crippling sanctions, says the BBC's Barbara Plett Usher in Lausanne. Despite progress, disagreements remain on how long Iran would be subject to constraints, and on the speed of sanctions' relief, our correspondent says. At their meeting with Iranian Foreign Minister Mohammad Javad Zarif, the other representatives will be aiming to agree on a political framework by Tuesday night that would set the stage for technical talks. US officials said all parties have agreed to a "step by step approach" to reaching a deal, but sticking points remain. READ MORE.

ELECTION CENTER
Contact the White House Contact US Senators Contact US Representatives
202-456-1111 202-224-3121 202-224-3121
Track Your Senators' and Representative's Votes

Visit our Election Center for More
PICTURE WORTH A THOUSAND WORDS


From Movie - The Passion of the Christ
Jesus Christ: "Father, forgive them for they know not what they do."
Get Engaged


Click to Support Our Troops Click to Rescue At-Risk Kids
Join our Book Club / Study Groups Contact Your Government
Our Mission
Hi, I'm Sharon Hughes, and the Founder and President of The Center for Changing Worldviews and the host of Changing Worldviews TALK Radio. Our mission is to inform on the changing world views of our day, and promote civic responsibility so that America will continue to be a land of liberty, respect human dignity and family integrity, as well as public and private virtue.

The more I interview experts on the crucial issues of our day, the more impressed I am with the passion and dedication of men and women, (guests and listeners alike), who tirelessly take on the challenges of the 21st century.

Therefore, whether on the Radio Show, online Video, teaching or speaking engagements, through our Book Club/Study Groups, or our website, we are dedicated to helping to equip and inspire our listeners and readers to stand strong in faith in the day in which we live, and to use their gifts and talents to engage in our culture in effective and lasting ways.

I look forward to sharing with you in real and relevant ways, as we face, challenge and work to make a difference in an ever-changing world together.

The Center advocates for at-risk-children through Operation ARC, and our Troops through Operation Heartlift. Changing Worldviews is not sustained by any political or special interest organization. Our mission, radio show, and outreach projects, are funded entirely by the voluntary financial support of friends like you!
More Ways To Connect
This Week's Poll
Do You Think Hillary Will Run For Prez In 2016?
ON THE AIR
The Sharon Hughes Show
SUNDAYS 3-5:00pm PDT
KMYC 1410 AM
Northern California
>LISTEN LIVE ONLINE HERE



GO HERE FOR:








>BROADCAST ARCHIVES




GODTalk Fridays
12 Noon - 1pm PDT
Live Online @


>ARCHIVES


QUOTES OF THE WEEK
History Quote...

"Liberty cannot be preserved without a general knowledge among the people, who have a right...and a desire to know; but besides this, they have a right, an indisputable, unalienable, indefeasible, divine right to that most dreaded and envied kind of knowledge, I mean of the characters and conduct of their rulers." -John Adams
News in Quotes...




"Once this shadow of doubt has been placed, I think it's going to linger throughout a presidential campaign, should she decide to run." -Mike Huckabee on Hillary Clinton's Email Scandal

You Gotta Be Kidding! ...

"I recognize that the findings in our report may leave some to wonder how the department's findings can differ so sharply from some of the initial, widely reported accounts of what transpired. It remains not only valid – but essential – to question how such a strong alternative version of events was able to take hold so swiftly, and be accepted so readily." -Eric Holder
UPCOMING EVENTS








Interactive Online Study
Week 3: March 27, 2015
12 Noon PDT
Join Sharon:
By Phone: 424-222-5360
Online
Details
Invite Sharon to speak to your group. Call: 707-322-3632
Contact for more information
into@changingworldviews.com

Calendar Page
WHAT OTHERS ARE SAYING
"Thank you for a stimulating interview." -Edwin Black, author of IBM & The Holocaust
"Thanks for keeping us informed - your work is so important." -Myles Weiss, Zola Levitt TV
READ SHARON ALSO AT
INDEX
MONTHLY VISITORS