This Week On The Show
LISTEN LIVE 3-5 PM PDT SUNDAYS on Flagship Station:
KMYC AM 1410 & Streamed Live @ www.kmycradio.com

This Week on the Air: Sunday, April 19, 2015, 3-5:00 pm PDT
KMYC 1140 AM & Streamed Live @ www.kmycradio.com
Hour 1 & 2: Radical Islam on the March - The Unholy War
Top News Stories of the week, then Author, television co-host of "Kennedy Classics", and lead editor for the documentary "Radical Islam on the March," will talk about the threat Islamic extremism poses to America and the West, to dominate the world; and Caryl Matrisciana, Author and award-winning film producer, will talk about her film "The New Barbarians, Teaching Children to Kill," as this 'unholy war' is rapidly increasing.
On the Web: Friday, April 17, 2015, Noon-1:00pm PDT
BlogTalk Radio: When the World Will Be 'One'
Tal Brooke, President of Spiritual Counterfeits Project and Author of "When the World Will be One," will talk about the increase of a one-world government and religion (New World Order) that is gaining ground today. Separating fact from fiction and conspiracy theory, Tal will share from his own previous anti-Christ 'one-world' view and activities. Relevant and powerful in connecting the dots, for our Friday GODTalk edition of the show.

Other Stations, Times, Venues
Changing Worldviews.Commentary
Take Action Items
Stand For Marriage Sunday
APRIL 26, 2015

On April 28, the Supreme Court will hear oral arguments for and against redefining marriage in America. Though marriage between a man and a woman has existed since the beginning and is the cornerstone of ordered society, the time-honored institution is serious trouble. Before federal judges began to overturn marriage laws, 30 states had protected natural marriage in their Constitutions. Now the High Court is poised to decide for us all. It is time for our voices to be heard in the Courts of Heaven and the Courts of Public Opinion. (Source: Family Research Council)

>URGE CONGRESS TO UPHOLD THE LAW
>CHURCHES: HOST A "FREE TO BELIEVE" GATHERING
See All Take Action Items
This Week's Top News Stories
HEADLINE STORY
Obama & Castro Meet / State Dept. Recommends Removing Cuba from State Sponsors of Terrorism List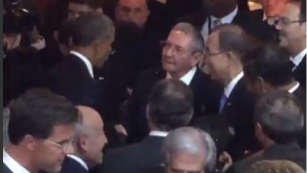 CNN - Ending a decades-long standstill in U.S.-Cuba relations, President Barack Obama met for an hour Saturday with his Cuban counterpart Raul Castro, the first time the two nations' top leaders have sat down for substantive talks in more than 50 years. The meeting in a small conference room on the sidelines of the Summit of the Americas came as the two countries work to end the Cold War enmity that had led to a total freeze of diplomatic ties. "This is obviously an historic meeting," Obama said at the beginning of his session with Castro, claiming that decades of strain had done little to benefit either Cubans or citizens of the United States. READ MORE. Prior to the meeting, the State Department has sent a recommendation to the White House that Cuba be removed from the State Sponsors of Terrorism List, paving the way for the White House to announce its intent to de-list Cuba as early as Thursday, two administration officials tell CNN. In making the recommendation, the State Department has certified Cuba has not provided support to terrorist groups within the last 6 months. READ MORE.
ISIS Destroys Ancient Ruins in Nimrod

ELECTION CENTER
Contact the White House Contact US Senators Contact US Representatives
202-456-1111 202-224-3121 202-224-3121
Track Your Senators' and Representative's Votes

Visit our Election Center for More
PICTURE WORTH A THOUSAND WORDS
Get Engaged


Click to Support Our Troops Click to Rescue At-Risk Kids
Join our Book Club / Study Groups Contact Your Government
Our Mission
Hi, I'm Sharon Hughes, and the Founder and President of The Center for Changing Worldviews and the host of Changing Worldviews TALK Radio. Our mission is to inform on the changing world views of our day, and promote civic responsibility so that America will continue to be a land of liberty, respect human dignity and family integrity, as well as public and private virtue.

The more I interview experts on the crucial issues of our day, the more impressed I am with the passion and dedication of men and women, (guests and listeners alike), who tirelessly take on the challenges of the 21st century.

Therefore, whether on the Radio Show, online Video, teaching or speaking engagements, through our Book Club/Study Groups, or our website, we are dedicated to helping to equip and inspire our listeners and readers to stand strong in faith in the day in which we live, and to use their gifts and talents to engage in our culture in effective and lasting ways.

I look forward to sharing with you in real and relevant ways, as we face, challenge and work to make a difference in an ever-changing world together.

The Center advocates for at-risk-children through Operation ARC, and our Troops through Operation Heartlift. Changing Worldviews is not sustained by any political or special interest organization. Our mission, radio show, and outreach projects, are funded entirely by the voluntary financial support of friends like you!
More Ways To Connect
This Week's Poll
Who Is Your Pick For Prez 2016?
ON THE AIR
The Sharon Hughes Show
SUNDAYS 3-5:00pm PDT
KMYC 1410 AM
Northern California
>LISTEN LIVE ONLINE HERE



GO HERE FOR:








>BROADCAST ARCHIVES




GODTalk Fridays
12 Noon - 1pm PDT
Live Online @


>ARCHIVES


QUOTES OF THE WEEK
History Quote...



"Our Constitution was made only for a moral and religious people. It is wholly inadequate to the government of any other.." -John Adams

News in Quotes...



"Like Indiana's law, AR bill goes beyond protecting religion, would permit unfair discrimination against #LGBT Americans. I urge Governor to veto." -Hillary Clinton tweet
You Gotta Be Kidding! ...

"As part of our dedication to protecting America's youth, this Administration supports efforts to ban the use of conversion therapy for minors."
-Valerie Jarrett, Obama Senior Advisor
UPCOMING EVENTS








Interactive Online Study
Week 3: April 27, 2015
12 Noon PDT
Join Sharon:
By Phone: 424-222-5360
Online
Details
Invite Sharon to speak to your group. Call: 707-322-3632
Contact for more information
into@changingworldviews.com

Calendar Page
WHAT OTHERS ARE SAYING
"Thank you for a stimulating interview." -Edwin Black, author of IBM & The Holocaust
"Thanks for keeping us informed - your work is so important." -Myles Weiss, Zola Levitt TV
READ SHARON ALSO AT
INDEX
MONTHLY VISITORS