This Week On The Show



THIS WEEK ON THE SHOW
Sunday, November 29, 2015, 3-5:00PMPT
KMYC 1140 AM & Streamed Live @ www.kmycradio.com

Hour 1 & 2: Turkeys of the Year Awards

Our annual show on the Top Turkeys, from the top mind-molding arenas, in our nation today -- politics, education, science, media and more. It's either HO HO HO or NO NO NO! Tune in this Thanksgiving weekend for some laughs (and groans) as we look at the top 'turkeys' in our national life.

THIS WEEK ON THE WEB
Friday, November 27, 2015, 12-1:00PMPT
BlogTalk Channel Streamed Live @ www.blogtalkradio.com/sharonhughes

Hour 1: GODTalk - We'll be back next week!

...
Changing Worldviews.Commentary
Take Action Items
Defund Planned Parenthood

Congress must stop this outrageous source of government funding.

Is your member on the list? Thank them for standing up for life.If your member is not on the list, use the Dashboard to contact the office by phone or email. Tell your representative to add their name to this letter demanding they defund Planned Parenthood.
Go HERE to see which Senators and Representatives have joined the effort to Defund Planned Parenthood.

TAKE ACTION HERE



See All Take Action Items
This Week's Top News Stories
HEADLINE STORY

Brussels, Belgian in Lockdown After 16 Arrested in Terror Raids
FOX -- Brussels entered its third day of a government-ordered lockdown Monday, with the Belgian capital's schools and subway system closed and more than 1,000 security personnel deployed across the country. The city has been at maximum alert since Saturday, with authorities citing information about an "imminent threat", possibly a series of coordinated attacks similar to those that killed 130 people in Paris Nov. 13. On Sunday, authorities announced the arrests of 16 terror suspects in 22 raids -- 19 in Brussels and three in Charleroi, in the country's south. One of those arrested was shot and injured by police when his car tried to ram into police during an attempted getaway. However, fugitive Salah Abdeslam, suspected of helping to carry out the Paris attacks, was not among those apprehended. Belgian Interior Minister Jan Jambon said Monday that "investigations will continue until we've fixed this problem." READ MORE.
FINANCIAL/PREPAREDNESS NEWS
How to Survive a Terrorist Attack
Survival Mom: Are Your Kids Equipped to Handle These 7 Scarey Scenarios?

ODD NEWS
Prince Charles: Syria's War Linked to Climate Change

GOOD NEWS
Natalie Grant: Thankful to be Called "Mommy"

WEBSITE OF THE WEEK
Cutting Edge News

VIDEO OF THE WEEK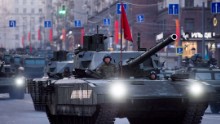 Russia Rolls Out High Tech Battle Tank

MORE ON THE B
LOG
ELECTION CENTER
PICTURE WORTH A THOUSAND WORDS
SUPPORT OUR SPONSORS

FOR 20% DISCOUNT
CLICK HERE TO ORDER &
FOR MORE INFORMATION

Get Engaged


Click to Support Our Troops Click to Rescue At-Risk Kids
Join our Book Club / Study Groups Contact Your Government
Follow Sharon on facebook Follow Sharon on twitter
Our Mission
Hi, I'm Sharon Hughes, and the Founder and President of The Center for Changing Worldviews and the host of Changing Worldviews TALK Radio. Our mission is to inform on the changing world views of our day, and to engage individuals in civic responsibility so that America will be a land of liberty, respect human dignity and family integrity, as well as public and private virtue.

The more I interview experts on the crucial issues of our day, the more impressed I am with the passion and dedication of men and women, (guests and listeners alike), who tirelessly take on the challenges of the 21st century.

Therefore, whether on the Radio Show, online Video, teaching or speaking engagements, through our Book Club Study Groups, or our website, we are dedicated to helping to equip and inspire our listeners and readers to stand strong in faith in the day in which we live, and to engage in our culture in effective ways in an ever-changing world.

The Center for Changing Worldviews advocates for at-risk-children through Operation ARC, and supports our Troops through Operation Heartlift. Changing Worldviews is not sustained by any political or special interest group. Our efforts are funded entirely by the voluntary financial support of friends and sponsors like you.
More Ways To Connect
This Week's Poll
Who Is Your Pick For Prez 2016?
ON THE AIR
The Sharon Hughes Show
SUNDAYS 3-5:00pm PDT
KMYC 1410 AM
Northern California
>LISTEN LIVE ONLINE HERE



GO HERE FOR:








>BROADCAST ARCHIVES



Friday "Lunch Break"
12 Noon - 1pm PDT
Live Online @


>ARCHIVES



SUPPORT OUR SPONSORS

FOR 20% DISCOUNT
CLICK HERE FOR MORE INFORMATION & TO ORDER


QUOTES OF THE WEEK
History Quote...


"Our moral imperative is to work with all our powers for that day when the children of the world grow up without the fear of nuclear war." -Ronald Reagan


News in Quotes...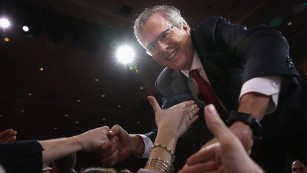 "Hell, yeah, I'd Kill baby Hitler. It could have a dangerous effect on everything else, but I'd do it -- I mean, Hitler." -Jeb Bush
You Gotta Be Kidding! ...



"The same issue is being fought today and has been fought since 1948, and historians are carried back to the 19th century… when the original people, the Palestinians — and please remember, Jesus was a Palestinian — the Palestinian people had the Europeans come and take their country." -Rev. Jeremiah Wright (Pres. obama's former pastor)
UPCOMING EVENTS
Book Club Webinar
Watch for it!
Invite Sharon to speak to your group. Call: 707-322-3632
Contact for more information
into@changingworldviews.com

Calendar Page
WHAT OTHERS ARE SAYING
"I appreciate all you do. You are so correct on your statement this week - 'we are at a tipping point.' I say we are at point of no return! Thank you for never compromising" -Brian Bolton
"I so appreciate all you do to help keep us informed." -Kris Seidler
"Truth Woman! Truth has fallen in the streets; we need the Belt more than ever!!" -Steve Simpson
READ SHARON ALSO AT
INDEX
MONTHLY VISITORS