The Sharon Hughes Radio Show
Streamed Live Streamed Live On Demand
@ www.kmycradio.com @ www.yahradio540.com Listen Here

ON THE SHOW - Week of September 24, 2018

Sunday Weekend Show: National Preparedness Month #4
September is National Preparedness Month and we can't talk about being prepared unless we take a look at Culture, specifically Cultural Marxism. So, join us and our guests as we follow the rule to 'don't wait, but communicate' how to be prepared, but really more so, how to prevent your family and community from believing this lie.

Tune in on Stations Listed above


Weekday Show:
Monday - Preparing for Disaster #5
Wednesday - Preparing for Disaster #6
Friday - GODTalk
On Salem Web Network's OnePlace.com @ www/oneplace.com/ministries/changingworldviews.com



...
Changing Worldviews.Commentary
Take Action Items
Book Club
"The Discerning Heart Seeks Knowledge." Proverbs 13:14
Join Us!
Read along with us on your own
Obtain a copy of the book
Request monthly study along notes (optional) at info@changingworldviews.com



See All Take Action Items
Featured News Stories
HEADLINE NEWS

Iran Warns United States


AP - Iran's president on Sunday accused an unnamed U.S.-allied country in the Persian Gulf of being behind a terror attack on a military parade that killed 25 people and wounded 60, further raising regional tensions. Hassan Rouhani's comments came as Iran's Foreign Ministry also summoned Western diplomats over them allegedly providing havens for the Arab separatists who claimed Saturday's attacks in the southwestern city of Ahvaz. The Iranian moves, as well as promises of revenge by Iran's elite Revolutionary Guard, come as the country already faces turmoil in the wake of the American withdraw from Tehran's nuclear deal with world powers. "All of those small mercenary countries that we see in this region are backed by America. It is Americans who instigate them and provide them with necessary means to commit these crimes," Rouhani said before leaving for the U.N. General Assembly in New York. Iran meanwhile summoned diplomats from Britain, Denmark and the Netherlands early Sunday for allegedly harboring "members of the terrorist group" that launched the attack. Danish Foreign Minister Anders Samuelsen condemned the attack and stressed that there would be "consequences" if it turns out that those responsible have connections to Denmark.

MORE FEATURED STORIES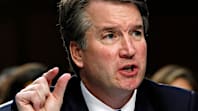 Kavanaugh Denies Sexual Misconduct Inside Israel's Raid to Seize
"I know I'm telling the Truth Nuclear Documents in Iran


Nigeria: Boys Murdered; 250 UN Exposed Sensitive Info to the
Massacred in 2 Months Whole Internet

Kavanaugh Exclusive Interview on Sexual Allegations
ELECTION CENTER
Contact the White House Contact US Senators Contact US Representatives
202-456-1111 202-224-3121 202-224-3121
Track Your Senators' and Representative's Votes

PICTURES WORTH A THOUSAND WORDS
SUPPORT OUR SPONSORS
Get Engaged


Click to Support Our Troops Click to Rescue At-Risk Kids
Read Along with Us / Study Groups Contact Your Government
Follow Sharon on facebook Follow Sharon on twitter
More Ways To Connect
This Week's Poll
Who Is Responsible For The Current Economic Recovery?
THE SHARON HUGHES SHOW
ON THE AIR

SUNDAYS 3-4:00pm PST



Tune in to KMYC 1410AM
LISTEN LIVE ONLINE HERE

SUNDAYS 10-11am MTN

Tune in to KYAH 540AM
LISTEN LIVE ONLINE HERE

STREAMED ONLINE

SATURDAYS & SUNDAYS 7-8:00am EST

LISTEN LIVE HERE
SUNDAYS 6-7:00am EST




MONDAY, WEDNESDAY, FRIDAY & SATURDAY



LISTEN HERE 24/7

OTHER VENUES
SPONSOR OF THE MONTH
QUOTES OF THE WEEK
History Quote

News in Quotes


<font size="2" face="arial,helvetica,sans-serif">&amp;lt;div style="display:none;"&amp;gt;&amp;lt; img src="https://pixel.quantserve.com/pixel/p-d9XxhfbZ3mYSM.gif" border="0" height="1" width="1" alt="Quantcast"/&amp;gt;&amp;lt; /div&amp;gt; </font><font size="2" face="arial,helvetica,sans-serif">&amp;lt;img src="https://d5nxst8fruw4z.cloudfront.net/atrk.gif?account=nnBqk1aUy100E7" style="display:none" height="1" width="1" alt="" /&amp;gt;</font>
"Everything is on the line, and a wholly new interpretation of the Constitution looms before us. Socialism would replace freedom and free enterprise" if Christians don't participate, he said." - Dr. James Dobson
You Gotta Be Kidding! Quote
"I know you are me, and if I can be standing here as your forever First Lady, then you can do anything you put your mind to."' -Michelle Obama, to Temple University students
UPCOMING EVENTS



Book Club
Read along with us!
Questions: Email info@changingworldviews.com
Invite Sharon to speak to your group. Call: 707-322-3632
Or Contact info@changingworldviews.com

Calendar Page
WHAT OTHERS ARE SAYING
"I so appreciate all you do to help keep us informed." -Kris Seidler
"Truth Woman! Truth has fallen in the streets; we need the Belt more than ever!!" -Steve Simpson


"My reception is not very good so I have my ear plastered against the radio trying to catch every word!" -Sara Haskins
READ SHARON ALSO AT
INDEX
MONTHLY VISITORS