This Week On The Show

Announcing our new flagship station: KMYC AM 1410
& Weekend Edition of the Show: Sundays 3:00pm - 5:00 pm PDT
out of the beautiful Sierra-Nevada Foothills of No. California
and streamed Live Online @ www.kmycradio.com




Line-up for Sunday, September 21st:

DE-CONSTRUCTIONISM
Hour 1:
William Federer, modern-day histortian and author of "What Every American Needs to Know About the Qur'an." With Pres. Obama's statement last week in addressing the nation that "ISIS is not Islamic," - what does the Qur'an say is Islamic? What is De-Constructionism, and how is it being implemented in our nation toay by the current administration? Plus, California's 'Six States' initiative failed to make it on the ballot, and why is the Tea Party embracing a call for a Constitutional Convention, and what are the concerns?

Hour 2:
Edwin Black, international investigative author of eleven New York Times bestselling books, and ten-time Pulitzer Price Nominee, he received the top two editorial awards from the American Society of Journalists and Authors for Best Book of the Year for "IBM and the Holocaust," which shows how De-Constructionism has been effectively used by tyrants in the past, like Hitler, to mold the minds of the masses. Plus, some of the most outrageous statements caught on tape by current leaders, that you're not going to believe!
Music Highlight:
The late Eugen Cicero, nicknamed "Mr. Golden Hands"

ARCHIVES - If you missed it on Air you can Listen in the Archives HERE.
Changing Worldviews.Commentary
Take Action Items
Stop Internet Regulation
Make sure you sign American Commitment's petition to Tom Wheeler, the chairman of the FCC below—and tell him that the American people won't stand for a federal takeover of the Internet. And we'll send a copy of your petition to your Congressman too—just so that they know where their constituents stand in the fight to stop these crippling Internet regulations.
TAKE ACTION TODAY!
See All Take Action Items
This Week's Top News Stories
HEADLINE STORY
The British Connection to the ISIS Beheadings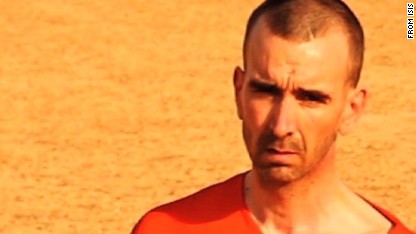 (CNN) -- He has beheaded again. The tall, masked British man with the London accent, working with ISIS. His first two victims were American journalists. His third was a fellow citizen, British aid worker David Haines. British Prime Minister David Cameron hastily assembled a meeting of his top national security advisers in the early hours of Sunday morning to discuss what can be done. According to British officials, Cameron knows the identity of the British executioner.Some 500 British citizens have traveled to Syria to fight, as have 100 Americans. The population of the United Kingdom is about a fifth of that of the States. READ MORE
MORE TOP NEW
Israel Prepares ISIS Threat
John Kerry: Bible Commands US to Protect Muslim Countries from Global Warming
'Six Californias' Initiative Fails
Fire Near Grass Valley, Calif., Burns Homes, 250 Acres
Cities Celebrate the Constitution

GOOD NEWS
University Football Team Builds Houses for Those in Need

WEBSITE OF THE WEEK
Cutting Edge News

VIDEO OF THE WEEK


The Silent Conquest of the West

MORE AT THE BLOG
PICTURE WORTH A THOUSAND WORDS
Townhall Cartoons
Get Involved



Click to Support Our Troops Click to Rescue At-Risk Kids
Join our Book Club / Study Groups Contact Your Government
Follow Sharon on facebook Follow Sharon on twitter
More Ways To Connect
This Week's Poll
Do You Think Isis Is A Threat To The U.S.?
ON THE AIR
The Sharon Hughes Show
3-5 PM PST - SUNDAYS
On KMYC 1410 AM
Coming to you out of the beautiful
Sierra-Nevada Foothills
of Northern California
>LISTEN LIVE ONLINE HERE









GO HERE FOR
>BROADCAST ARCHIVES
READ SHARON ALSO AT
QUOTES OF THE WEEK
History Quote...
"Truth is the proper & sufficient antagonist to error." -Thomas Jefferson

News in Quotes...
"The murder of David Haines is an act of pure evil. My heart goes out to his family who have shown extraordinary courage and fortitude." -British Prime Minister David Cameron, the day after the video was released by ISIS, Saturday night


You Gotta Be Kidding! Quotes...

"Now let's make two things clear: ISIL (ISIS) is not Islamic. "No religion condones the killing of innocents..." -Pres. Obama, address to the nation
UPCOMING EVENTS

Watch for upcoming events.
Invite Sharon to speak to your group.
Call: 707-322-3632
Contact for more information
into@changingworldviews.com

Calendar page
WHAT OTHERS ARE SAYING
"Love the new stuff you are doing with your shows Sharon, very cool! Blessings." -Caleb Klinge
"Sharon, we so appreciate your news reporting. We listened to the video with the young man talking about Islam. Very insightful. Thank you for using your God given talents to educate, encourage, and inspire!" -Diane McKnight
"Thank you for a stimulating interview." -Edwin Black, author of IBM & The Holocaust
"Thanks for keeping us informed - your work is so important." -Myles Weiss, Zola Levitt TV
INDEX
MONTHLY VISITORS