The Sharon Hughes Radio Show

ON THE SHOW - Week of March 26, 2017

Weekly Show - Best of the Best of Changing Worldviews
Do your choices match ours for the Best of Changing Worldviews shows? On Trump? On Obama? On Hillary? On Marxism? On Finances? On Terrorism? On God? Tune in this week to find out the top shows of the last two years.

Sunday from 3-5:00pm PST on KMYC 1140 AM & Streamed Live @ www.kmycradio.com & @ www.rednationrising.us
Sunday from 10am-12pm MTN on KYAH AM540 Utah & Streamed Live @ www.yahradio540.com

Saturday & Sunday from 6-8am and 10am-Noon EST on www.redstatetalkradio.com


Daily Show - Best of Daily Show
All week we will look at the shows and issues you, our listeners, have ranked as of top concern or interest, such as on:

Monday: Faith

Wednesday: Freedom

Friday: The Future

Saturday: GODTalk

Tune in to Salem Web Network's OnePlace.com
@ www/oneplace.com/ministries/changingworldviews.com



...
Changing Worldviews.Commentary
Take Action Items
Book Club March 2017
"The Discerning Heart Seeks Knowledge." Proverbs 13:14
Join Us! March 2017

Read along with us on your own
Obtain a copy of the book
Request monthly study along notes and relevant film recommendations (optional) at info@changingworldviews.com



See All Take Action Items
Featured News Stories
HEADLINE NEWS

Dems Put Dem Senators on Notice: Back Gorsuch, Face Primary




FOX NEWS -- Democratic lawmakers are being put on notice: Vote to put Neil Gorsuch on the Supreme Court and you put your political future at risk. In February, nine Democratic senators publicly committed to holding a floor vote on Gorsuch's nomination to the Supreme Court, almost assuring his confirmation. But there is still time to change their minds. Liberal advocacy groups are scrambling to push back against those lawmakers, and others, ahead of Monday's hearingbefore the Senate Judiciary Committee. Last week, eleven progressive advocacy organizations led by NARAL Pro-Choice America, a large activist group, sent a letter to every Democratic Senators urging them to defeat the Gorsuch nomination. They let lawmakers on the left know they don't think they are doing a good enough job in blocking Gorsuch. The letter states, in part, "Democrats have failed to demonstrate a strong, unified resistance to this nominee despite the fact that he is an ultra-conservative jurist who will undermine our basic freedoms and threaten the independence of the federal judiciary. We need you to do better." READ THE REST.


MORE FEATURED STORIES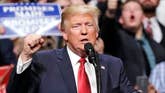 Trump's Budget Ends Funding for 4 Things to Know About the Rulings
Endowment for the Arts, PBS Against Trump's Revised Travel Ban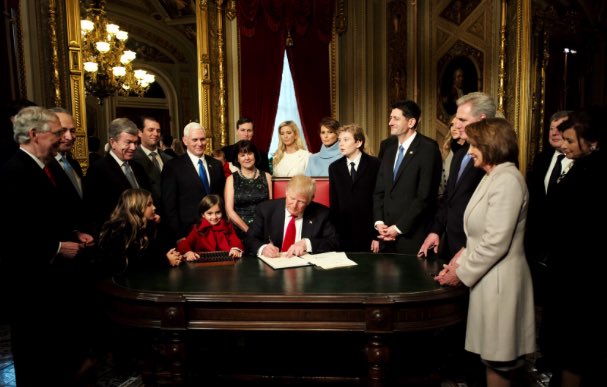 Pres. Trump's America First Plan DEMS Rip Pres. Trump's
for Jobs, Trade, Military, Foreign Policy Wiretapping Claim by Obama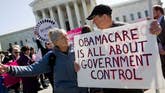 Plan to Dismantle ObamaCare Passes Key House Hurdle

MORE ON THE B
LOG
ELECTION CENTER
Contact the White House Contact US Senators Contact US Representatives
202-456-1111 202-224-3121 202-224-3121
2017 Inauguration - View Events as they Happened
Track Your Senators' and Representative's Votes

PICTURES WORTH A THOUSAND WORDS
SUPPORT OUR SPONSORS

FOR 20% DISCOUNT
CLICK HERE TO ORDER &
FOR MORE INFORMATION

Get Engaged


Click to Support Our Troops Click to Rescue At-Risk Kids
Read Along with Us / Study Groups Contact Your Government
Follow Sharon on facebook Follow Sharon on twitter
More Ways To Connect
This Week's Poll
What Do You Think Should Be Pres Elect Trump's Top Priority His First 100 Days?
THE SHARON HUGHES SHOW
ON THE AIR

SUNDAYS 3-5:00pm PST



Tune in to KMYC 1410AM
LISTEN LIVE ONLINE HERE

SUNDAYS 10am-12Noon MTN

Tune in to KYAH 540AM
LISTEN LIVE ONLINE HERE

STREAMED ONLINE

SATURDAYS & SUNDAYS 6-8:00am & 10am-Noon EST

LISTEN LIVE HERE
SUNDAYS 3-5:00pm PST




MONDAY, WEDNESDAY, FRIDAY & SUNDAY
3-3:30pm PST



LISTEN HERE 24/7

OTHER VENUES
SUPPORT OUR SPONSORS

FOR 20% DISCOUNT
CLICK HERE FOR MORE INFORMATION & TO ORDER

QUOTES OF THE WEEK
History Quote...

News in Quotes...




"Terrible! Just found out that Obama had my 'wires tapped' in Trump Tower just before the victory. Nothing found. This is McCarthyism!" -President Donald Trump


You Gotta Be Kidding! ...


"Donald Trump is making me gain weight. I start the day with liquids, but after the morning news, I eat pancakes smothered in maple syrup!"
-Barbra Streisand
UPCOMING EVENTS



Book Club - March 2017
Read along with us! & Get to know the new HUD Director
Questions: Email info@changingworldviews.com
Invite Sharon to speak to your group. Call: 707-322-3632
Or Contact info@changingworldviews.com

Calendar Page
WHAT OTHERS ARE SAYING
"I so appreciate all you do to help keep us informed." -Kris Seidler
"Truth Woman! Truth has fallen in the streets; we need the Belt more than ever!!" -Steve Simpson


"My reception is not very good so I have my ear plastered against the radio trying to catch every word!" -Sara Haskins
READ SHARON ALSO AT
INDEX
MONTHLY VISITORS