This Week On The Show
LISTEN LIVE 3-5 PM PDT SUNDAYS out of our Flagship Station KMYC AM 1410

This Week on the Air: Sunday, October 11, 2015, 3-5:00 pm PDT
KMYC 1140 AM & Streamed Live @ www.kmycradio.com

Hour 1 & 2: The UN, Climate Change and the Pope's Agenda

Guests include Marc Morano, Climate Depot

The U.S. and Vatican Leaders have given the 'green light' to the UN to introduce not only Global Currency, GMOs, Forced Vaccinations, Population Control, but Climate Change proposals. Plus, ISIS is planning to fulfill the "Prophecy of the Popes" by destroying Rome; and more.

This Week on the Web: Friday, October 9, 2015, 12-1:00 pm PT

Our
BlogTalk Channel
Streamed Live
@
www.blogtalkradio.com/sharonhughes


GODTalk: Petrus Romanus - The Pope's Agenda

Changing Worldviews.Commentary
Take Action Items
California Physician Assisted Suicide Bill A Bx2 15

The California state Assembly passed a bill that would allow doctors to prescribe drugs for the terminally sick to end their lives. The End of Life Option Act waits final approval by the Senate; and the fate of the bill will likely rest with Gov. Jerry Brown to approve or Veto. Brown, a former Jesuit seminary student, has expressed concern about the issue, but has yet to articulate his position on this measure.

TAKE ACTION: Call, write, fax immediately:

Governor Brown - to VETO Physician Assisted Suicide Bill ABx2-15

Governor Jerry Brown
State Capitol, suite 1173
Sacramento, CA 95814

Ph: 916-445-2841 Fax: 916-558-3160

To e-mail, go to the Governor's website
www.gov.ca.gov


See All Take Action Items
This Week's Top News Stories
HEADLINE STORY
It's the Mother of All Pow-Wows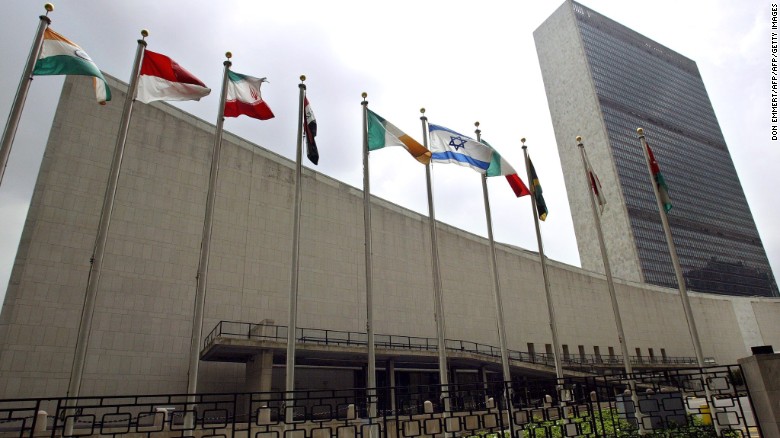 (CNN) Global leaders are descending on the U.N. Headquarters in New York City this week for the U.N. General Assembly. Starting Monday, the 70th edition of the gathering will mix together a dizzying array of international allies and rivals -- with uncertain results. Here's what you need to keep your eye on this week: Obama and Putin come face to face. Beyond the grandstanding at the podium, the real geopolitical maneuvering takes place later Monday when Obama and Putin talk face to face on the sidelines. It's the first meeting between the two world leaders in more than 10 months; the previous occasion was a frosty encounter at the G20 summit in Australia last year. The tension will no doubt be cut-with-a-knife thick once again. This time around, it's not just Russian involvement in the Ukrainian conflict souring the mood -- Obama is also concerned about poker-faced Putin's recent military moves in war-ravaged Syria. READ MORE.

MORE TOP NEWS
Fourth Blood Moon Pictures
Inside the Battle for the Next Speaker of the House
The Pope and Global Citizenship Festival in NY
Bill Clinton Blames GOP, Media Over Hillary's Email Scandal
New Alliance: Iraq to Share Info on ISIS with Russia, Syria
ACLU Goes After Teacher for 'God Bless You' Phrase
Obama Announces New Faith-Based Advisors

ELECTION 2016 NEWS
Latest Polls
Hillary's Popularity Drops/ Carson Gets Boost
Trump: I'll Replace ObamaCare with Insurance for Everyone
Planned Parenthood Supporters Throw Condoms at Carly Fiorina

HEALTH NEWS
Brain-Computer Linkup
FINANCIAL/PREPAREDNESS NEWS
Stock Markets of 10 Largest Economies Collapsing
Riots & Looters - How Will You Stop Them

ODD NEWS
InHuman - The Next Phase of Man is Coming

GOOD NEWS
Assisted Dying Bill Fails in England and Wales

WEBSITE OF THE WEEK
SkyWatchTV

VIDEO OF THE WEEK


The Planned Parenthood Videos: Complete Coverage

ELECTION CENTER
PICTURE WORTH A THOUSAND WORDS
SUPPORT OUR SPONSORS

FOR 20% DISCOUNT
CLICK HERE TO ORDER &
FOR MORE INFORMATION


Get Engaged


Click to Support Our Troops Click to Rescue At-Risk Kids
Join our Book Club / Study Groups Contact Your Government
Follow Sharon on facebook Follow Sharon on twitter
Our Mission
Hi, I'm Sharon Hughes, and the Founder and President of The Center for Changing Worldviews and the host of Changing Worldviews TALK Radio. Our mission is to inform on the changing world views of our day, and to engage individuals in civic responsibility so that America will be a land of liberty, respect human dignity and family integrity, as well as public and private virtue.

The more I interview experts on the crucial issues of our day, the more impressed I am with the passion and dedication of men and women, (guests and listeners alike), who tirelessly take on the challenges of the 21st century.

Therefore, whether on the Radio Show, online Video, teaching or speaking engagements, through our Book Club Study Groups, or our website, we are dedicated to helping to equip and inspire our listeners and readers to stand strong in faith in the day in which we live, and to engage in our culture in effective ways in an ever-changing world.

The Center for Changing Worldviews advocates for at-risk-children through Operation ARC, and supports our Troops through Operation Heartlift. Changing Worldviews is not sustained by any political or special interest group. Our efforts are funded entirely by the voluntary financial support of friends and sponsors like you.
More Ways To Connect
This Week's Poll
Who Is Your Pick For Prez 2016?
ON THE AIR
The Sharon Hughes Show
SUNDAYS 3-5:00pm PDT
KMYC 1410 AM
Northern California
>LISTEN LIVE ONLINE HERE



GO HERE FOR:








>BROADCAST ARCHIVES



Friday "Lunch Break"
12 Noon - 1pm PDT
Live Online @


>ARCHIVES



SUPPORT OUR SPONSORS

FOR 20% DISCOUNT
CLICK HERE FOR MORE INFORMATION & TO ORDER


QUOTES OF THE WEEK
History Quote...


"Few men have virtue to withstand the highest bidder." -George Washington


News in Quotes...




"Unless we work with other nations under the mantle of international principles we will not succeed. Any order that our militaries will impose will be temporary." -Pres. Obama, UN speech this week

You Gotta Be Kidding! ...



"It's going to cost me a fortune, which is actually true. I'm the only who's honest. I fight like hell to pay as little as possible. Can I say that? I'm not a politician." -Donald Trump, speaking of his new tax plan

UPCOMING EVENTS
Book Club Webinar
Watch for it!
Invite Sharon to speak to your group. Call: 707-322-3632
Contact for more information
into@changingworldviews.com

Calendar Page
WHAT OTHERS ARE SAYING
"I appreciate all you do. You are so correct on your statement this week - 'we are at a tipping point.' I say we are at point of no return! Thank you for never compromising" -Brian Bolton
"I so appreciate all you do to help keep us informed." -Kris Seidler
"Truth Woman! Truth has fallen in the streets; we need the Belt more than ever!!" -Steve Simpson
READ SHARON ALSO AT
INDEX
MONTHLY VISITORS