This Week On The Show
LISTEN LIVE 3-5 PM PDT SUNDAYS on Flagship Station:
KMYC AM 1410 & Streamed Live @ www.kmycradio.com

On the Air: Sunday, March 8, 2015, 3-5:00 pm PDT

KMYC 1140 AM: Top News Stories of the Week, then...
Hour 1 & 2: As Israeli Prime Minister Bengamin Netanyahu addresses a joint session of the U.S. Congress this week at the dislike of Pres. Obama, Author, former aide to PM Netanyahu and expert on the nation of Israel, Joel Rosenberg will talk about the threat of Iranian nuclear weapons and more.
Music Pick: "The Forgotten People" by Ted Pearce
On the Web: Friday March 6, 2015, Noon-1:00pm PDT
BlogTalk Radio: GODTalk - The New Religion of 'Chrislam'
Debra Rae and Audrey Russo join Sharon to discuss the rise of 'Chrislam,' the mixture of Islam and Christianity that is growing in America. We'll give the who, what and how of this subtle movement into mainstream churches today; what the concerns are; and the consequences of its acceptance.
Changing Worldviews.Commentary
Take Action Items
Stop The Fundamental Transformation Of America
Source: American Family Assn
The "Citizens Mandate" is intended to send a clear message to Republicans that they were not elected last November to relinquish more power and compromise with the president. It urges the new Republican majority in Congress and its leaders to stop President Obama's fundamental transformation of the nation and press forward with a positive commitment to lead according to the Constitution.
The mandate charges the GOP majority to chart a new and better course. America's voters must demand that the new Congress:
o Stop the President's promised "Fundamental Transformation" of the country,
o End Executive branch overreach,
o Restore Constitutional balance of power among the three branches of government,
o Bring an end to the perennially unpopular Affordable Care Act,
o Stop the President's Executive Amnesty initiatives,
o Hold the Executive branch accountable for its myriad abuses of power
and its national security failures both foreign and domestic, and
o Put the interests of the United States of America first among nations.
See All Take Action Items
This Week's Top News Stories
HEADLINE STORY
Obama Attacks Netanyahu's Credibility Ahead of Speech
(CNN) The Obama administration braced for Benjamin Netanyahu to spill secret details of Iran nuclear talks, as both camps traded last-minute political jabs ahead of the Israeli prime minister's controversial address to Congress on Tuesday. Aides spent Monday frantically mobilizing after Israeli officials said that the prime minister planned to disclose sensitive details of an agreement taking shape in talks between six world powers and Iran, which has entered a delicate final stage. Concern and anger among American officials about the nature of what they thought Netanyahu would expose heightened already roiling tensions between the two countries. Secretary of State John Kerry cautioned about the damage such revelations might have on the negotiations and President Barack Obama himself attacked Netanyahu's judgment.
READ MORE.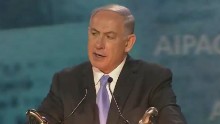 Netanyahu's Speech before AIPAC

ELECTION CENTER
Contact the White House Contact US Senators Contact US Representatives
202-456-1111 202-224-3121 202-224-3121
Track Your Senators' and Representative's Votes

Visit our Election Center for More
PICTURE WORTH A THOUSAND WORDS
Get Engaged


Click to Support Our Troops Click to Rescue At-Risk Kids
Join our Book Club / Study Groups Contact Your Government
More Ways To Connect
This Week's Poll
Do You Think Obama Should Support Israeli Pm Benjamin Netanyahu's Speech To Congress This Week?
ON THE AIR
The Sharon Hughes Show
SUNDAYS 3-5:00pm PDT
KMYC 1410 AM
Northern California
>LISTEN LIVE ONLINE HERE



GO HERE FOR:








>BROADCAST ARCHIVES




GODTalk Fridays
12 Noon - 1pm PDT
Live Online @


>ARCHIVES


QUOTES OF THE WEEK
History Quote...




"We in America do not have government by the majority. We have government by the majority who participate." -Thomas Jefferson
News in Quotes...


"I think that it is a distraction from what should be our focus. And our focus should be,'How do we stop Iran from getting a nuclear weapon?' -Pres. Obama on PM Netanyahu addressing Congress this week
You Gotta Be Kidding! ...

"...The administration should 'go after the root causes that leads people to join these groups' – including 'lack of opportunity for jobs. We can work with countries around the world to help improve their governance. We can help them build their economies so they can have job opportunities for these people."
-Marie Harf, the State Department's no. 2 spokesperson,
on ISIS killings
UPCOMING EVENTS







NEW! Interactive online Study
Week 3: March 27, 2015
12 Noon PDT
Join Sharon:
By Phone: 424-222-5360
Online
Details
Invite Sharon to speak to your group. Call: 707-322-3632
Contact for more information
into@changingworldviews.com

Calendar Page
READ SHARON ALSO AT
INDEX
MONTHLY VISITORS